Suomalainen Dvorak-näppäimistö / Finnish Dvorak keyboard layout
03 August 2017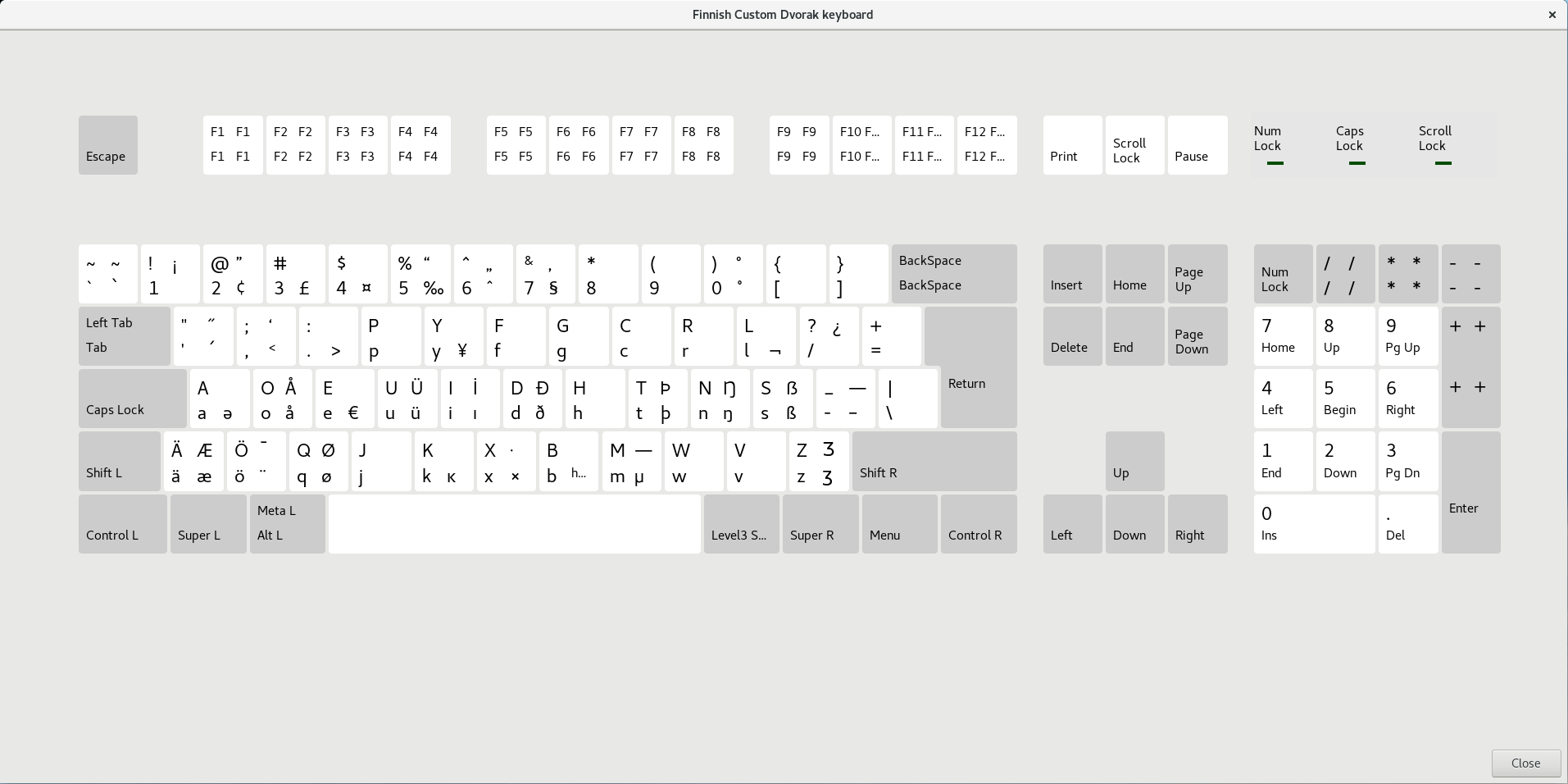 (click here to skip to English)
Olen jo useamman vuoden ajan kirjoittanut Dvorak-näppäimistöasettelulla tavallisen QWERTY:n sijaan. Vaihdoin alunperin lähes hetken mielijohteesta erään irkkituttavan mainittua käyttävänsä Dvorakia joskus 2010-2011 paikkeilla. Ajatus ergonomisemmasta kotirivistä oli houkuttava, ja saahan Dvorakilla nyt enemmän hipsteripisteitäkin, kuin QWERTY:llä.
Ongelmana vain oli, ettei suomenkielistä Dvorakia oikein ollut olemassa, ainakaan miltään "viralliselta" taholta. Netistä löytyi pari olemassaolevaa layouttia, tosin nykyään niistä enää ArkkuDvorak näyttää olevan olemassa. ArkkuDvorakissa on vähän, tai oikeastaan todella pöljästi aseteltu Ä ja Ö -merkit samaan näppäimeen, tuohon <>| -näppäimeen Z:n ja Shiftin välissä, siten että napista tulee tavallisesti Ä ja shiftiä painamalla Ö, ja noiden isokirjaimiset versiot jostain AltGr:n takaa. En tykännyt ideasta lainkaan, joten päätin tehdä oman Dvorak-variaationi.
Oman Dvorak-layouttini pohjasin tuolloin verkosta löytyneeseen vaihtoehtoiseen suomenkieliseen Dvorakiin, joka tosin nyttemmin näyttää kadonneen bittiavaruudesta. Kyseisen layoutin nimi oli Suomalainen monikielinen Dvorak, mutta tekijän nimeä en enää muista. Kiitos vaan, jos luet tätä!
Valitsemassani variaatiossa ääkköset löytyivät muistaakseni AltGr-muokkaimen takaa A:sta ja O:sta. En välittänyt tästäkään ideasta, joten tein niille tilaa tuosta <>| -napista ja Z:sta. Tavallisessa Dvorakissa tuota jenkkinäppäimistöstä puuttuvaa <>| -nappia ei käytetty lainkaan, ja Z:ssa oli kaksoispiste : ja puolipiste ;. Siirsin kaksoispisteen ja puolipisteen QWERTY-tyyliin pisteen ja pilkun Shift-muokkaimen taakse. Tavallisessa Dvorakissa noilla paikoilla oli < ja > -merkit, jotka puolestaan siirsin AltGr-muokkaimen taakse. Tällä tapaa sain mahdutettua sekä Ä:n ja Ö:n omiin näppäimiinsä menettämättä toiminnallisuutta, ja vieläpä varsin mukavaan ja järkevään paikkaan; Dvorakissa kaikki vokaalit kun painetaan vasemman käden sormilla. Å sai luvan jäädä O-napin AltGr-muokkaimen taakse, sillä kirjoitan hyvin vähän ruotsia. Onpa tuo silti kohtalaisen sukkelassa paikassa.
Olen vuosien varrella muokkaillut tätä karttaa sitä mukaa, kun puutteita on löytynyt. Enimmäkseen tämä on tarkoittanut usein käytettyjen erikoismerkkien lisäämistä näppäimistöön. Esimerkiksi astemerkki ° löytyy AltGr-0 -yhdistelmän takaa, en- ja em-dashit tavallisen viivamerkin (joka Dvorakissa on siis suomalaisen QWERTY-näppäimistön Ä-painikkeessa) takaa eri muokkaimilla; en-dash AltGr:llä ja em-dash Shift-AltGr:llä. Myy-merkki µ löytyy AltGr-M:stä. Japanin kielen romanisoinnissa pitkä-äänteistä vokaalia merkitsevä makroni ¯ löytyy Shift-AltGr-Ö:stä (eli QWERTY-näppäimistön Z), siinä missä tavallinen diereesi ¨ löytyy samasta napista ilman shiftiä. Ja kasa muita enemmän tai vähemmän hyödyllisiä erikoismerkkejä.
Minkään ulkomaan kielen kirjoittamiseen tätä ei kuitenkaan ole erityisesti suunniteltu. Pohjoismaisiin kieliin siitä tosin löytynee kaikki tarvittavat merkit. Mikäli tarvitset puuttuvia merkkejä, lisää tokkiinsa niitä itse! Näppäinkartan muokkaaminen on verrattain helppoa.
Asennus
Windows
Pura arkisto
Aja setup.exe ja asenna näppäimistökartta
Aseta näppäimistökartta aktiiviseksi Ohjauspaneelin kielivalikosta (löytyy nimellä "Finnish Unofficial Dvorak Keyboard Layout")
Mikäli haluat poistaa näppäimistökartan kokonaan, voit tehdä sen Ohjauspaneelin Lisää tai Poista sovellus -valikosta. Mikäli haluat muokata näppäimistökarttaa haluamaksesi, lataa Microsoftin tarjoama Keyboard Layout Creator ja avaa arkistosta löytyvä dvficstm.klc -tiedosto.
Linux (lyhyesti)
Pura arkisto
Kopioi dvficstm -tiedosto (ilman tiedostopäätettä) XKB:n näppäimistökarttakansioon, joka ainakin Ubuntulla ja Fedoralla löytyy polusta /usr/share/X11/xkb/symbols/
Lisää asettelun tiedot evdev.xml:ään (backuppaa se ensin), joka löytyy vastaavasti polusta /usr/share/X11/xkb/rules/evdev.xml. Avaa tiedosto, etsi rivi "</layoutList>", ja lisää tämä pätkä ennen kyseistä riviä viimeisen </layout> tagin jälkeen:
<layout>


  

<configItem>


    

<name>

dvficstm

</name>


    

<shortDescription>

fi

</shortDescription>


    

<description>

Finnish Custom Dvorak keyboard

</description>


    

<languageList>


      

<iso639Id>

fin

</iso639Id>


    

</languageList>


  

</configItem>


  

<variantList/>




</layout>



Varmuuden vuoksi voit tehdä saman muutoksen myös samasta kansiosta löytyvään base.xml -tiedostoon.
Jos haluat käyttää näppäimistöasettelua virtuaalikonsolissa, kopioi dvficstm.map.gz -tiedosto KBD:n keymaps -kansioon, jonka tarkka sijainti jälleen kerran riippuu distrostasi mutta esimerkiksi Fedoralla löytyy polusta /usr/lib/kbd/keymaps/xkb/. Voit sitten ladata asettelun loadkeys -komennolla, tai (jälleen luultavasti distrosta riippuen) asettaa sen oletukseksi komennolla localectl set-keymap dvficstm
Näppäimistökartan säilymisestä päivitysten läpi ei ole mitään takeita. Lisäohjeita löytyy Googlesta, jonka käyttö on jokaiselle Linuxin käyttäjälle varmasti jo ennestään tuttua.
OS X
En omista Maccia, joten en voi tehdä OS X-versiota. Jos porttaat tämän itse mäkille, niin mailaa vaikka burneddi ät gmail piste com, jos haluat, että lisään sen tähän viestiin.
English
I've used a Dvorak keyboard layout over the standard QWERTY keyboard for many years now. I originally swapped over almost extemporaneously sometime around 2010-2011 after an IRC acquintance mentioned he was using Dvorak. I liked the idea of a more ergonomic home row, and Dvorak is worth way more hipster cred than the normie tier QWERTY.
Problem was, there is no "official" Finnish Dvorak layout. I could find a couple of existing layouts online, although only ArkkuDvorak seems to be around now. ArkkuDvorak is a bit… well, very silly in that it puts the Finnish Ä and Ö characters on the same key — the <>| -key that is present on the Finnish (and a handful of other European) keyboards, but missing on the US layout. What's more, it was done so that pressing the key normally produced a lower-case Ä, while pressing it with Shift produces a lower-case Ö. The upper-case versions of these letters were behind an AltGr modifier. I didn't like this at all, so I decided to make my own flavour of Dvorak.
I based my layout on an alternate Finnish Dvorak layout I found online, which seems to have vanished from the intertubes since then. The layout was called Suomalainen monikielinen Dvorak (Finnish multilingual Dvorak), but I can't remember the name of the author. If you're reading, thanks a bunch!
If I remember correctly, Ä and Ö were behind an AltGr modifier on A and O, respectively. I didn't like that either; they're common letters in the Finnish language, so I wanted them to have separate keys of their own. I solved this by binding Ä to the extra <>| key which was unused in regular Dvorak, and Ö to the key next to it, the Z key on QWERTY. On Dvorak, Z is used for colon : and semicolon ;, so to make room I moved these behind a shift modifier on comma and period, much like on QWERTY. This displaced the < and > symbols, so I moved those behind an AltGr modifier instead. This way I could fit both Ä and Ö on their own keys without losing any functionality. They ended up in a pretty good spot, too: in Dvorak all vowels are pressed with your left hand's fingers. The Swedish character Å, also occasionally used in Finnish, was left behind an AltGr-modifier on O, as I write very little Swedish. It's still a pretty alright place for it anyway.
Over the years I've modified the layout as the need arises. Mostly I've added commonly used symbols that were absent (and are also absent on the QWERTY layout!). For instance the degree sign ° is behind AltGr-0, en and em dash are behind an AltGr modifier on the regular dash; en dash with just AltGr and em dash with AltGr-Shift. The mu symbol µ is under AltGr-M. The macron, ¯, commonly used for Japanese romanization to mark a long vowel, is under Shift-AltGr-Ö (that's QWERTY layout Z), while the diaeresis ¨ is under the same key but without shift. And a bunch of other more or less useful special characters.
The layout isn't designed to be complete for any particular foreign language, however. It should have all the necessary symbols for all Nordic languages, though. If you need any missing glyphs, go ahead and add them yourself! Editing the keymap is pretty straightforward.
Installation
Windows
Extract the archive
Run setup.exe to install the keymap
Activate the layout in the Control Panel's language menu. It's under the name "Finnish Unofficial Dvorak Keyboard Layout".
If you want to uninstall the layout entirely, you can do that from the Add and Remove Software section of the control panel. If you want to edit the layout yourself, download Microsoft's Keyboard Layout Creator and open the dvficstm.klc file found in the archive.
Linux (in short)
Extract the archive
Copy dvficstm (no file extension) to the XKB keymap directory, which on at least Ubuntu and Fedora is /usr/share/X11/xkb/symbols/
Add the layout to evdev.xml (make a backup first), which similarly is found somewhere like /usr/share/X11/xkb/rules/evdev.xml. Open the file, find the line "</layoutList>", and add this before that line, after the last </layout> tag:
<layout>


  

<configItem>


    

<name>

dvficstm

</name>


    

<shortDescription>

fi

</shortDescription>


    

<description>

Finnish Custom Dvorak keyboard

</description>


    

<languageList>


      

<iso639Id>

fin

</iso639Id>


    

</languageList>


  

</configItem>


  

<variantList/>




</layout>



You can also make the same change to the base.xml file in the same folder if you want to be extra sure (I really don't know what these files actually do).
If you want to use the keymap in the virtual console, copy dvficstm.map.gz to KBD's keymaps folder, the location of which again depends on your distro but on Fedora is at /usr/lib/kbd/keymaps/xkb/. You can then switch to the layout using the loadkeys command, or (probably again depending on your distro) set it as default using localectl set-keymap dvficstm
No guarantees on this persisting through updates. It's possible updates to xkb may overwrite your changes to evdev.xml. Extra info can be found on Google, which as a Linux user you're probably quite familiar with.
OS X
I don't own a Mac, so I can't make a Mac version. If you port this over, mail me at burneddi ät gmail döt com if you want me to include it here.